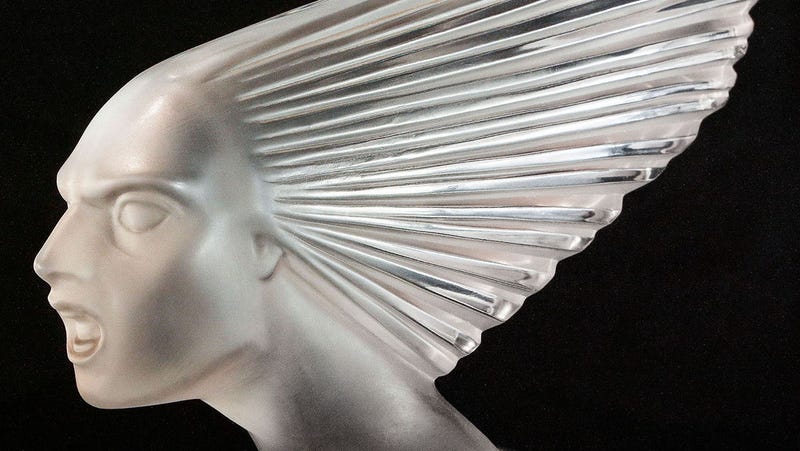 Glass is one of the rare materials that can at one moment seem completely mundane and purely functional and the next it can be unspeakably beautiful, changing the way we see shapes and light. It's a difficult material to work with, not only because of its relative fragility in its cooled state, but because of its somewhat unpredictable habit of cracking and breaking both during work and as it cools. Glass is also unforgiving, with its transparency making it nearly impossible to hide small mistakes. The craftspeople at Lalique were able to shape and work with glass in a way that hasn't been equaled since their heyday in the early 20th century. To be able to think about glass in a way that moves beyond the preconceived notions of what is possible in the medium, as René Lalique did, requires a singular talent and understanding.
René Lalique was born in Ay, in Northeastern France in 1860. Ay is primarily known for being the epicenter of the champagne-producing industry. By the sixteen, René had begun his career as a jeweler's apprentice and incredibly, five years later he had become a successful freelance jewelry designer. He eventually opened his own workshop in Paris, followed by a store. In 1888 he registered the "RL" trademark and his career as a jeweler bloomed further. Lalique decided to diversify his business by expanding into glass as well as jewelry. He opened another workshop near the popular Parisian perfumer François Coty in 1905 and soon after began to manufacture incredibly ornate perfume bottles in addition to jewelry and other glass objects.

As time went on, Lalique began to specialize more and more in glasswork. His creations received adoration and acclaim from collectors and critics alike. He was able to span the gap between the flowing, sinuous natural forms of the Art Nouveau movement and the harder, more geometric, modern lines of the Art Deco movement. Because of this, and because of the variety of pieces that he designed, his legacy in the medium is unparalleled.
The 1920s were a golden age for automotive design, particularly in France. In the midst of the economic boom that fueled the "roaring 20s" people were spending more and more on increasingly powerful and elaborately designed automobiles. French cars from the Art Deco period including Bugattis, Delahayes, Voisins and Delages are still considered among the most beautiful automobiles in history. People then, much as they are now, were interested in modifying their cars to suit their personal tastes. René Lalique took note of this and began developing designs for hood mascots which were meant to replace the MotoMeter temperature gauges and simple radiator caps employed by many manufacturers at the time.
In order to make the idea of a glass hood mascot feasible on a vehicle that would surely be driven, Lalique had to develop both a new formula for super tough damage resistant glass as well as a new means of casting it. Lalique worked out a formula for his nearly unbreakable glass himself and developed a process where the molten glass was poured into a steel mold that was under pressure. The majority of the mascots were cast in clear glass and then given a matte finish. Others were tinted. Lalique offered upwards of 30 different designs for the hood mascots, the most famous among them being the Nudes series and the Spirit of the Wind. They also created a greyhound emblem for Prince George Edward Alexander Edmund, Duke of Kent to resemble his personal standard.
Read the rest of this article on V3llum.com